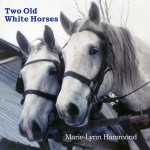 2009 – Vignettes Media (CD)
[No longer available]
This EP of horse songs includes three songs from Pegasus and two brand-new songs.  Marie-Lynn has expanded this project into the full-length CD HoofBeats (2013), a collection of 12 original horse songs.
View post
Chestnut Mare (M. L. Hammond) 4:25
Written about a real horse. I helped save her from going to auction and an uncertain future, and a friend bought her. She really will try to eat her bridle and saddle if you let her.
Pegasus (M. L. Hammond) 4:28
I've always loved Pegasus. Unable to recall his origins (he sprang up out of Medusa's head when Perseus slew her), I made up my own version. The rest of the song stays pretty true to the myth.
Honorary Producers: Ian Angus and Lis Angus
The Canadian (P'tit cheval de fer) Lyrics (M. L. Hammond/D. Woodhead) 3:52
The rare Canadian horse, nicknamed le petit cheval de fer (little horse of iron), is Canada's National Horse. This song tells the breed's amazing story.
Honorary Producers: Mary Beth, Richard, Robert, and Michael Hess
Emily Flies (M.L. Hammond) 3:23 (Lyrics below)
Inspired by real people, real children, and real horses that I've met in therapeutic riding programs
Two Old White Horses (M.L. Hammond/P. Aird) 5:24 (Lyrics below)
Paul Aird sent me a poem based on the stories of two horses his family had owned, and graciously allowed me to rewrite bits and turn it into this song.