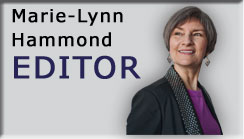 For a time, in between writing songs and singing, I wrote plays
and radio essays. More recently, I've written magazine articles,
including some for Canada's biggest-circulation monthly.
I also work as a freelance writer, proofreader, and copy-editor.
Can a folksinger (albeit one with an English degree) edit?
Yes. I can help you make your writing better, and I'll do it with patience, kindness, and good humour (or "humor," if you're American).
Besides that English degree, I've taken various editing courses and early on apprenticed myself to one of Toronto's most respected editors. I've now been editing for over twenty years.
My big claim to fame: I copy-edited a terrific novel that won Canada's biggest literary prize, the Giller, and was shortlisted for three other major literary prizes: the Rogers Writers' Trust Fiction Prize, the Man Booker Prize, and the Governor General's award. The author, Esi Edugyan, said about me, "Of all the excellent copyedits I've received over the years, Marie-Lynn Hammond's was by far the best. Her work on Half Blood Blues was incredibly sensitive and astute."
I've also taught copy-editing at the university level, and done presentations and taught seminars for Editors Canada, of which I'm a member emeritus. Please email me if you want a full editing CV.
EMAIL: mlh@marielynnhammond.com