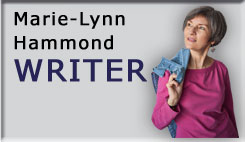 I've written everything from ad copy for Kraft Foods to a personal
essay on the healing power of animals published in the celebrated
Dropped Threads series of anthologies: from the ridiculous to the
sublime, you might say. I've also written plays and co-written a
screenplay, all produced.
I also write a BLOG for Yorkscene.
This is the hub of the website for Marie-Lynn's writing. Select a category below: