What's small, mighty, and almost extinct? Sadly, the answer is right in our Canadian backyard.
Those of you who know me and my music know that I've already written a song about the rare Canadian Horse, or cheval canadien — the only horse breed to have developed in Canada. I used to own one, and in fact there's a big section of my website devoted to this breed — see http://marielynnhammond.com/LegacyCanadians/1098841.htm
While there are only about 6,000 Canadian horses alive today, that breed is  practically thriving compared to Canada's only known pony breed, the Newfoundland Pony, which is in many ways the pony equivalent to the Canadian: smart, strong, sensible, versatile,  and well adapted to its rugged climate. Experts estimate that fewer than 400 exist, with perhaps only 250 of those able to breed. To help promote the breed, I've written a song about it, which is now available on my CD HoofBeats. Here's a video I made of my song about the pony that shows many fine examples of the breed; lyrics below:
MY NEWFOUNDLAND PONY AND ME
(lyrics, M-L Hammond; Music, M-L Hammond/Tom Leighton, ©2011)

Note: This song is set in early 70s, not long after the Newfoundland government passed a law declaring that the ponies, which had roamed and grazed free until then, had to be fenced in. Many Newfoundlanders could not afford the costs of fencing and feeding their animals. This, coupled with increasing mechanization of farming and other work, meant that the ponies were sold off by the thousands, mostly to be slaughtered for meat. But a small group of devoted breeders are working to bring the pony back from the brink of extinction.

CHORUS:
Diddle-ee dye-di dum, diddle-ee dye-di day
we were born on the Rock, of hardy stock, and the Rock is where we'll stay
with the cliffs and trees and the foggy seas, diddle-ee dye-di dee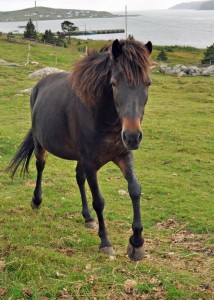 oh, together we're grand, my Newfoundland pony and me
Vs 1  My pony he's descended from more breeds than I can tell
like the Highland, Welsh, and Exmoor, and the Dartmoor and the Fell
that came here with the settlers for to work this rugged place
and now their blood has joined to form a new and sturdy race
CHORUS
Vs 2  My Prince he stands about 13 hands, he's a handsome brackety* grey
and when I hitch him to the plough he'll pull and pull all day
He's hauled logs from out of the woods and kelp on the beaches too
His heart's as big as Conception Bay, there's nothing he won't do!
CHORUS                                                                                          
Vs 3  He'll pick his way on a rocky ledge and never slip or fail
and when I've had a drop or two, he'll keep me on the trail
He'll take my boy to school at eight and come back on his own,
and then we send him out at three and he brings the laddie home!
BRIDGE: Our ponies used to roam at large and graze along the way
but now the law says fence them in and pay for feed and hay
So folks are buying tractors now while the ponies disappear
But I swear by the moon and the snows in June, old Prince he's staying here!
CHORUS :
Diddle-ee dye-di dum, diddle-ee dye-di day
we were born on the Rock, of hardy stock, and the Rock is where we'll stay
with the cliffs and trees and the foggy seas, diddle-ee dye-di dee
oh, together we're grand, my Newfoundland pony and me (2)
* brackety: Newfoundland dialect for spotted, dappled