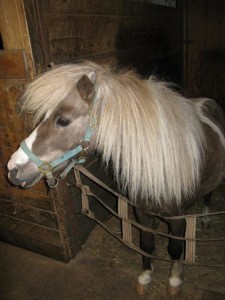 Music & Lyrics: Marie-Lynn Hammond
We've all known one like this guy. "Naughty pony" is probably redundant, isn't it?!
He's as wide as he's tall, he stands ten hands at best
his tail is a tangle, his mane is a nest
he's as old as the hills and he's blind in one eye
But you'll never outsmart him, so don't even try
Tie him up to a tree, he'll just undo the knot
and head back to the barn at a merry old trot
He'll nip and he'll kick and he'll stomp on your toes
And then he'll go slobber all over your clothes
Chorus:
'Cause he loves to make trouble, he will not obey
He's the naughtiest pony that ever ate hay
that ever, that ever, that ever ate hay
Turn him out in the paddock, he'll stomp on his pail
then he'll crawl on his belly right under a rail
to munch on your garden and then he'll move on
up the road to the neighbours to trample their lawn
And his cast iron stomach has helped him consume
two brushes, eight gloves, an old boot and a broom
No wonder his belly's so ample and round
You might as well call it the barn's lost and found!
Chorus
And riding that pony's like passing a test
he starts off so docile, you think he's the best
then he'll buck like a bronc or he'll stop on a dime
and dump his poor rider most every time
So maybe you're wondering just why he's still here
but no one else wants him, they've all made that clear
and the truth is we'd miss him if he went away
'cause we're gluttons for punishment – what can I say!
Oh he loves to make trouble, he will not obey
He's the naughtiest pony that ever ate hay
that ever, that ever, that ever ate hay
He's the naughtiest pony that ever ate hay